Think Jobs…Think JFC!
It all started back in 1975 out of a one-room office where husband and wife Jim F. Carchidi and Linda A. Carchidi started JFC. Today, we have a much larger work family spread across two niche recruiting companies.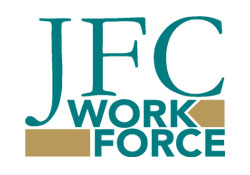 Office Support, HR, Marketing, Production, Distribution & Management
JFC Workforce sets the standard for excellence in staffing both temporary and permanent positions. Specializing in Office Professional, Customer Service, HR, Marketing, Manufacturing, General Labor and Manager/Supervisor recruitment, we have an extensive database of candidates to meet the needs of companies large and small.
We're Here to Help
Start your Search Now