Leaving an Everlasting Impression
May 6, 2020
by Tori Lorenski, Recruiter
Sending a Thank You
As a recruiter, one of the fundamental practices that I always encourage my candidates to do is to send a Thank You letter following an interview. This letter can take the form of an email or through snail mail. There are pro's and con's to either method, which I will be diving into, but both options get the job done. What is the end goal of sending a Thank You letter you may be wondering? To leave an everlasting impression.
The length of time that interviews last can vary and topics covered within the interview vary as well. In a candidate's position, it is hard to consistently obtain all the information given by the potential employer, especially if you are interviewing with various individuals within the organization. Taking notes on a pad during the interview will help alleviate the anxiety of trying to remember all the information given and will also help you have a point of reference when writing your Thank You letter.
How long does this letter need to be? Great question! A paragraph or two is a great length to strive for. It can be easy to accidently make the letter lengthy, but it is important to keep in mind that a short, strong, and focused letter is appreciated by the interviewer receiving as it shows that you are cognizant of their time given to you through the whole interview process.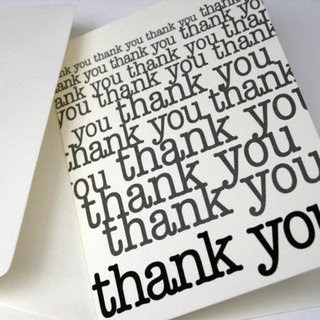 It's all in the details
Here are a few key points to take note of during the interview so you can include within the letter:
Names and titles of who you met with (Collecting business cards helps with this step)
Key aspects and responsibilities of the position
How you can fulfill the position's needs through your education and/or prior work experience
Now that you know the content of which you are going to include and length of the letter, it is important to speak on behalf of urgency. As soon as you can get the Thank You letter over to the hiring manager the better. First and foremost, the interview is fresh in both minds, which will make it easier for you to create the letter and easier for the hiring manager to refer to the interview itself. Sending an immediate note also shows the hiring manager how eager and excited you are for the potential opportunity within their organization.
Snail mail or E-mail?
As I mentioned earlier, there are two ways for you to send a follow-up note; through email or through the traditional mailing system. I recommend candidates always sending an email due to the immediacy of the method. There is no turnaround time of the note having to go through the mail, dropping it off at the office, etc. On the contrary, there is an aspect through receiving a hand-written letter that sends a very sincere message. I would treat a hand-written letter as an additional "WOW!" to the hiring manager on your behalf following the immediate Thank You note through email.
It takes a lot of time, coordination, and thought for a company to perform interviews for a new position and recognizing that process is important. You will never regret taking the time to thank all interviewers for giving their time to learn about you and your background. Now go make an everlasting impression!
Related Articles
We're Here to Help
Start your Search Now